The US State Department has urged Bangladesh to "respect its international obligations" and allow fleeing Muslims from Myanmar to enter the country. Bangladeshi guards have turned back more that 660 Rohingya Muslims since Monday.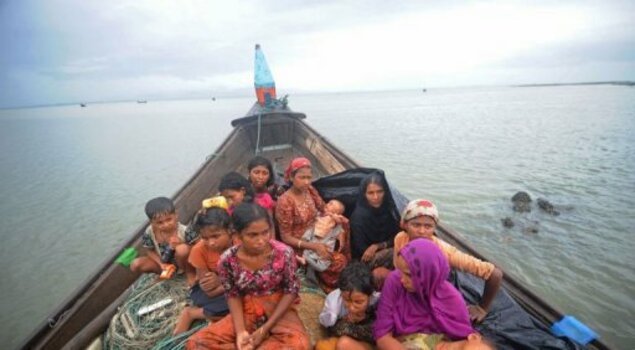 AP Photo/Fareed Khan
US urges Bangladesh not to send back Myanmar refugees
The United States on Wednesday voiced concern that Bangladesh was turning away Muslims fleeing religious violence in Myanmar and urged the Dhaka government not to send them back.
"We are concerned that Bangladeshi authorities appear to have intercepted and turned back persons fleeing the ethnic and religious violence in Burma," State Department spokeswoman Victoria Nuland said, using Myanmar's former name.
"We have been urging the government of Bangladesh to respect its international obligations under the relevant refugee conventions and to continue its longstanding policy of non-refoulement of refugees," she said.
Non-refoulement refers to a principle of international law that forbids turning over a victim of persecution to his or her persecutor.
Bangladeshi guards have turned back 16 boats carrying more than 660 Rohingya Muslims, most of them women and children, since Monday as they tried to enter from Myanmar across the river Naf, according to local officials.
Around 25 people have been killed and a further 41 people were wounded in five days of unrest in western Myanmar between Buddhists and Muslims.
The Rohingya are considered one of the world's most persecuted groups, with Myanmar not officially recognizing them as a minority.
Rohingya children from Myanmar sit on a boat as they try to get into Bangladesh in Teknaf
Rohingya children from Myanmar sit on a boat as they try to get into Bangladesh in Teknaf June 13, 2012. The UN Refugee Office (UNHCR) has called on Bangladesh to keep its borders open given the rapid escalation of violence in the northern Rakhine State of Myanmar, UN spokesman Martin Nesirky told reporters on Tuesday. REUTERS/Andrew Biraj (BANGLADESH - Tags: SOCIETY IMMIGRATION CIVIL UNREST MARITIME)